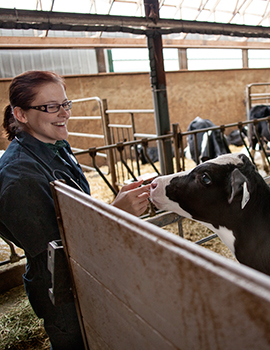 Created in 2015, the Animal Welfare Fund's mandate is to enhance the knowledge and awareness of animal welfare among the WCVM community as well as the general public. Its focus includes food animals as well as horses and pets.
The fund's activities will help to focus more attention on critical issues in animal welfare and contribute potential solutions through research.
Contributions to the fund may support research on anything from pain control and wound healing to animal management, housing and protocols for veterinary care.
"So many of the research studies conducted at the WCVM already touch on different aspects of animal welfare," says Dr. Joe Stookey, professor of animal behaviour at WCVM. "This fund will only help us to raise the profile of a very significant area."
What is animal welfare?
According to the American Veterinary Medical Association (AVMA), measuring and protecting an animal's welfare requires attention to its physical and mental health. The actions and choices of people have an impact on the welfare of all domestic animals as well as many wild animals.
The veterinary profession has a responsibility and the opportunity to work with people and animals to ensure the health and welfare of all animals.
Research
Investigating toe tip necrosis in feedlot cattle
Principal investigator: Dr. Murray Jelinski
WCVM researchers are investigating the pathogenesis and epidemiology of "P3" or toe tip necrosis in feedlot cattle. This disease has animal welfare and economic implications to the beef cattle industry in Western Canada.
An evaluation of hair cortisol as an objective method for evaluating long-term stress and pain relief in beef cattle
Principal investigator: Dr. John Campbell
A U of S research team is evaluating the stress hormone cortisol as an assessment of pain and stress in beef calves following castration. While cortisol is typically measured in saliva or blood, the researchers are measuring cortisol in hair samples collected from castrated or non-castrated calves.
Implementation of a Canadian white nose syndrome action plan
Principal investigator: Dr. Ted Leighton
An organized national program of information dissemination about white nose syndrome (WNS) and affected bat populations will enable those involved in WNS research, monitoring, surveillance, management and communication across North America to work effectively together.
Pain management in cats: studying the interaction of buprenorphine and hydromorphone with fentanyl
Principal investigator: Dr. Barbara Ambros
Opioids are the best type of pain medication for moderate to severe pain in cats after undergoing surgery or trauma. Researchers will investigate the pain-alleviating interaction between buprenorphine and fentanyl (both opioids) in cats. Findings will help to guide veterinarians in selecting pain medication for cats.
Using hormones to identify previous exposures to stress in horses
Principal investigator: Dr. Fernando Marqués
Cortisol, a natural hormone, is a well known indicator of stress that correlates to trauma, abuse or poor living conditions. A WCVM research team will undertake a novel study to determine if hair cortisol concentrations (HCC) can be reliably measured in horses — a species that hasn't been included in previous HCC research.
A potential therapy for equine laminitis
Principal investigator: Dr. David Wilson
Laminitis in horses is a painful, progressive disorder with limited treatments. WCVM researchers are working to develop a surgical approach that will stabilize and prevent rotation of an affected horse's coffin bone. If successful, this procedure may allow for better hoof repair in the early stages of laminitis.
When Dr. Joe Stookey thought about who would be the ideal person to launch a new animal welfare fund at the Western College of Veterinary Medicine (WCVM), his friend Dr. Temple Grandin immediately came to mind... [More]

Donate
Give by Phone
To make a credit card contribution or pledge by phone to the WCVM Animal Welfare Fund, please call:
Toll free: 1-800-699-1907
Local call: 306-966-5186
Questions?
Call the WCVM Alumni and Development Office: 306-966-7268
Email wcvm.supportus@usask.ca
For more information, contact:
Jennifer Molloy, Director of Development
Western College of Veterinary Medicine, U of S
Tel: 306-966-7450 | jennifer.molloy@usask.ca
Articles
"How stress alters immune responses during respiratory infection."
Fall-weaned calves entering the feedlot experience various psychological and physical stressors, including maternal separation, transportation, social mixing, restraint and dietary changes. Using an experimental bovine respiratory disease challenge, researchers analyzed the effects of specific stressors on clinical disease and immune responses following bovine herpes virus infection of naïve calves.
"The effect of toe trimming on production characteristics of heavy turkey toms."
Trimming the three anterior toes on both feet at day of hatch (to remove the claws) is a common practice in the turkey industry. Producers conduct the process to reduce bird scratching and improve carcass grades. However, results of this study showed negative effects on performance and no effect on carcass quality – suggesting that toe trimming may not be required or recommended for heavy tom turkeys.
"Inflammatory joint disease in cats: diagnostic approach and treatment."
Osteoarthritis, a degenerative non-inflammatory joint disease, is common in cats. The condition usually causes gradual changes in behaviour and lifestyle rather than severe lameness. This review, aimed at all veterinarians who treat cats, describes the general clinical approach to feline joint disease, the collection and analysis of synovial fluid, and the diagnosis and management of inflammatory joint diseases affecting cats.
"Urination and defecation by group-housed dairy calves."
A better understanding of when and where group-housed calves are most likely to defecate or urinate might permit improved housing design or more efficient use of cleaning routines. The primary aims of this study were to report the daily frequency of calves' urination and defecation and determine when and where group-housed dairy calves defecate and urinate most frequently. Researchers were also interested to see if incidence of urination and defecation changed with increasing age and the change in diet at weaning.
News

A team of researchers at the University of Saskatchewan and University of Calgary have received a $1.06-million grant from the Beef Cattle Research Council (BCRC) to conduct a five-year longitudinal study of the western Canadian cow-calf industry. With a focus on cow-calf production, the study aims to measure reproductive… [More]

My fondness for pigs took root in 2011 while I was volunteering at the Prairie Swine Centre (PSC) near Saskatoon, Sask… [More]

When I began my summer research work at the Western College of Veterinary Medicine (WCVM), the last thing I thought I'd be doing was acting as a cameraman at a photo shoot… [More]

Have you ever wondered what "living a dog's life" is really like? Well, this summer three students from the Western College of Veterinary Medicine are learning first hand what living a dog's life entails for free-roaming dogs in Puerto Natales, Chile… [More]

This fall, volunteers from the Western College of Veterinary Medicine (WCVM) took part in two remote animal health clinics — one in Keeseekoose First Nation in southeastern Saskatchewan and the other serving the Onion Lake Cree Nation north of Lloydminster, Sask… [More]

WCVM professor Dr. Joe Stookey has received the 2014 Metacam® 20 Bovine Welfare Award in recognition of his outstanding efforts to advance the welfare of cattle in Canada and the U.S. The annual award is presented by the Canadian Association of Bovine Veterinarians-Association Canadienne des Vétérinaires Bovins (CABV-ACVB)… [More]

Two Western College of Veterinary Medicine veterinarians were among the recipients of the 2013 Awards of Distinction for Equine Welfare on February 16 in Saskatoon, Sask. During a noon-hour awards ceremony, Dr. Sue Ashburner (WCVM '79) received an Award of Distinction for Equine Welfare Communication… [More]

Canadian organizers successfully hosted this week's Third International Symposium on Beef Cattle Welfare that drew more than 450 in-person and online participants from around the world to Saskatoon, Sask., June 5 to 7. This was the first time that Canada played host to the educational event that continues to… [More]

Animal welfare has always been a priority for Alberta veterinarian Dr. Duane Landals – long before groups had even coined the phrase. "Even though we didn't use that specific term, I've always assumed that my life is about animal welfare," explains Landals, registrar for the Alberta Veterinary Medical Association… [More]