About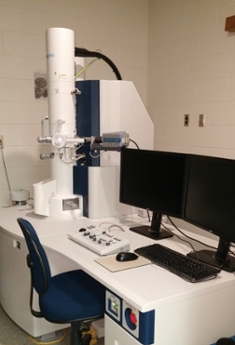 The Hitachi HT7700 is a high contrast/high resolution digital transmission electron microscope (TEM). TEMs are able to image at a significantly higher resolution than a traditional light microscope.
This ability allows the user to examine very fine detail in their specimens (Ultrastructure). A user can clearly visualize characteristics of their specimens which are thousands of times smaller than the smallest resolvable object on a light microscope.
Transmission electron microscopy is an invaluable research tool for analysis in many scientific fields, both physical and biological. Our facility also offers sample preparation services. 
Features and specifications
Resolution

: 0.2nm lattice

 

Accelerating Voltage: 40-120kV, 100V increments

 

Low magnification: 50x-1,000x

 

Zoom: 200x-600,000x

 

Image Rotation: +/-90 degrees in 15 degree steps

 

High resolution CCD camera for crisp imagery

 

Turbo

-

pump vacuum system

 for quick columns pump down

 

Auto-brightness

 and auto-

focus 

 

Low magnification/wide field of view

 

High resolution/High Magnification to 600K

 

Energy Dispersive Spectroscopy using the Bruker XFlash6T160 Detector

 
Image examples