designed to securely hold and manipulate needles and the ends of suture material
Goal
efficient use of needle holders while suturing (minimizing number of motions necessary to position, insert and extract the needle and tie a secure knot)
Skills to Practice
holding needle holders with a wide-based tripod grip
quick controlled opening and closing of locking mechanism
controlled and smooth insertion and extraction of needle in the tissues (lab 3)
secure, repeatable square knot formation using needle drivers (lab 2)
efficient use of needle holders while suturing (minimizing number of motions necessary to position, insert and extract needle, tie a square knot)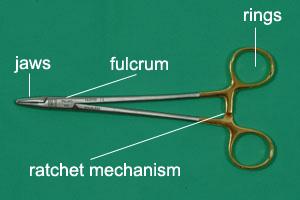 most have ringed handles and a ratchet locking system
jaws are wider and shorter than hemostats
prone to wear because of frequent use of a variety of needle sizes (needle slips or rotates when inserted into the tissues)
Tungsten-carbide tips available for some designs
strong metal insert with fine cross striations
reinforces the tips so they last longer and securely hold a wider range of needle sizes

various designs and sizes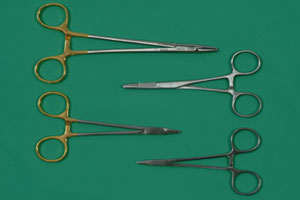 selection varies with intended use and surgeon preference

size selected for needle and suture material

large needle damages fine tips
large tip bends or breaks fine needles

length of handle used varies with location and depth of suturing
Mayo-Hegar Needle Holder

short, strong jaws
securely grasps variety of needle sizes
durable
comes in a variety of sizes
Olsen-Hegar Needle Holder

combines needle holder and suture scissors
suture can be placed and cut without changing instruments
useful for surgeons operating alone
combination tip is less durable across range of needle sizes
can inadvertently cut the suture
There are four holds for needle holders:
Wide-based tripod grip

Standard grip
tips of the thumb and ring finger are placed in rings
middle finger placed on top of finger ring
index finger is placed along the handle towards the fulcrum to stabilize the tips
wrist rotation used to drive needle through tissues
grip provides excellent precision
minimal movement of needle and instrument when jaws opened
recommended for novice surgeons
Wide-based tripod grip
Modified thenar-eminence grip

ring finger placed through one ring
other ring rests on fleshy pad at base of thumb (thenar eminence)
wrist used to drive needle through tissues
grip facilitates rapid needle grasping
associated with some needle motion as needle released
typically used for rapid continuous patterns when precise needle release is less critical
some do not distinguish between this grip and palm grip
Palm grip

fingers not placed through rings
handles are held in the palm
arm and wrist used to drive needle through tissues
produces a strong force to drive needle through tough tissues
less efficient and precise
most use only when necessary
Pencil grip

for use with specialized needle holders (e.g. Castroviego (shown above))
requires spring locking mechanism
provides most precise control of needle movement
finger generates force to drive needle (not wrist or arm)
use resticted to fine suturing (e.g. opthalmologic, microvascular)
needle is grasped perpendicular to the jaws
placement of needle in the jaws varies with tissue thickness and density

grasp near the center of the curve for most situations
grasp near tip if penetrating tough tissue
grasp near eye or swedged-on end if large amount of tissue to penetrate

rotating the wrist while the needle is penetrating the tissue uses the arc of needle so less force is needed
needle is extracted from tissues with needle holders if it can be regrasped in a position suitable for inserting the next bite
if not enough needle exits the tissues, it can be extracted with tissue forceps
fingers should NOT be used
also used to form and tighten knots

only the ends of the suture are used grasped to avoid damage to the main strand
holding the needle drivers with a wide-based tripod grip
quick, controlled opening and closing of the locking mechanism
smooth insertion and extraction of the needle in the tissues
secure, repeatable square knot formation using needle drivers (see lab 2)
Goal
efficient use of the needle holders while suturing (minimizing the number of motions necessary to position, insert and extract the needle, tie a square knot)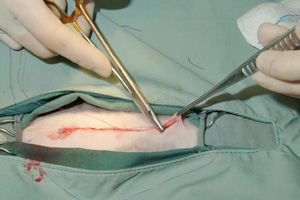 Practice:
open and close needle holders using wide based tripod grip
insert and extract needle from "tissues" (e.g. towel, foam)
position center of needle arc in tip of jaws
close ratchet mechanism 1 click
place needle tip at desired insertion site
rotate wrist to insert needle until approximately half of needle exits at desired location
release the needle
regrasp needle with needle holders in the centre of needle arc
tissue forceps can be used to help extract the needle if necessary. Don't use your fingers.