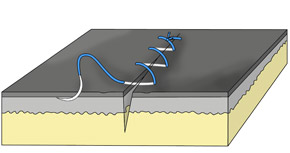 Properties
continuous
appositional
less effect on blood supply than the horizontal mattress but more than the simple interrupted
General recommendations
the bite on each side of the incision is roughly equal to the thickness of the tissue (eg. 3-5 mm)
sutures are spaced approximately twice this distance apart (ie 6-10 mm)
these guidelines are adjusted depending on the tendency of the tissue to open (take wider bites if edges tend to open or if the incision will be subjected to significant tension)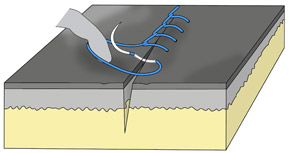 Properties
continuous
appositional
effect on blood supply is similar to the simple continuous
General recommendations
the bite on each side of the incision is roughly equal to the thickness of the tissue (ie 3-6 mm)
sutures are spaced approximately twice this distance apart (ie 6-10 mm)
these guidelines are adjusted depending on the tendency of the tissue to open (take wider bites if edges tend to open)
suture tension is adjusted with each bite as it difficult to readjust when finished
Technique of ending the Ford interlocking pattern
Option A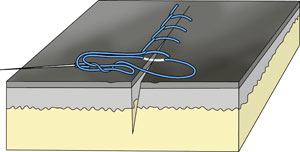 reverse the last bit creating a loop on one side of incision
tie loop free end
Option B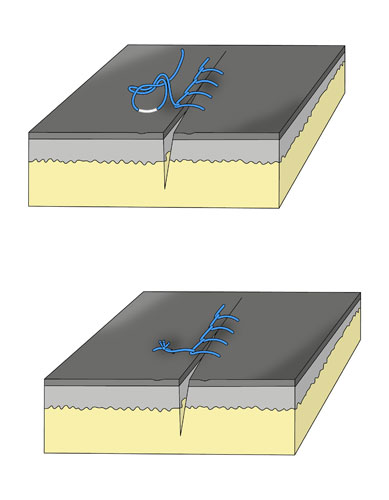 when end of incision reached
place bite thru intact skin
tie loop to free end
advantages

preserve final lock
knot off incision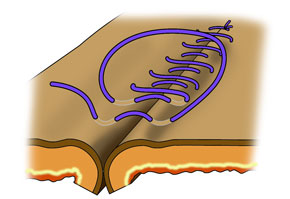 Properties
Continuous
Inverting
more effect on the local blood supply than a simple continuous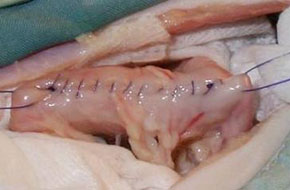 General recommendations
Bites run perpendicular (

T

ransverse -Lember

T

)
penetrate the serosa, mucularis and submucosa but not the mucosa of the hollow organ
the farther the bites are placed from the incision's edge, the more tissue inverted.
tension is adjusted with each bite as it is difficult to readjust once the pattern is completed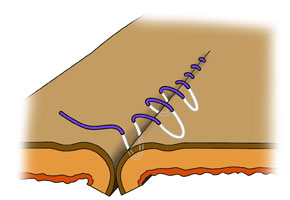 Properties
Continuous
Inverting
more effect on the local blood supply than a simple continuous
General recommendations
Bites bites are placed parallel (Connell) to the incision edge
With the Connell, the needle penetrates the lumen, whereas with the Cushing (no 'l') it does NOT (only penetrates serosa, muscularis, and submucosa)
the farther the bites are placed from the incision's edge, the more tissue inverted.
tension is adjusted with each bite as it is difficult to readjust once the pattern is completed
Depth of Connell
Depth of Cushing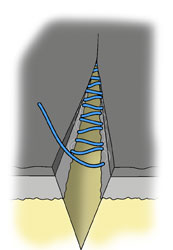 Properties
Continuous
Appositional
minimal impact on the local blood supply of skin
General recommendations
bites are placed within the dermis as close to the skin's surface as possible
successive bites should backtrack at least halfway for the best apposition
tension is adjusted after each bite as it is difficult to readjust once pattern is completed.
knots are buried beneath the skin's surface at the beginning and end of the incision
Tissue forceps need excess pressure to adequately stabilize the skin while placing the bites that can result in significant postoperative bruising. Using the thumb and first finger to stabilize the skin during needle placement is helpful. The tissue forceps are then palmed so they are readily available for needle extraction from the tissues.